Verkostokartta
Vesi- ja viemäriverkoston verkostokartta. Tiedot toimittaa Rauman Vesi. Tätä tuotetta ei tarvitse tilata normaalin rakennusluvan yhteydessä, vaan siinä tarvittavat tiedot toimitetaan liitostapalausunnossa. Tilaa tämä tuote vain erikseen tarvittaessa. Tiedot ovat maksuttomia.
Product requires a location. Add the location to the map below, before adding the product to the shopping cart.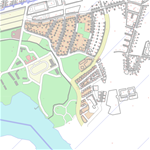 Add a location to the order by giving an address or by clicking Pinpoint location on the map.
Type of the product is Property